Hey there,
I've been lurking for a while, I'm a bassist and currently have a small-medium pedalboard that I use for home and gigging. It consists of a couple of preamp, a drive, compressor and tuner.
In the past I used the GT1000core, this was excellent for I/O. Stereo input and output and 2 FX loops allowed for easy integration of analog FX pedals. I got pretty far with the routing on the Core but always found that the build-in fx were a little safe despite being excellent quality, I wanted something a little off the beaten track.
Enter Mod Dwarf, it looks looks incredible, I love the ethos of open source, rich community and from what I heard can get pretty crazy if you want. The only thing stoping me pulling the trigger is the lack of I/O, 1 fx loop is enough for me to create a single FX loop.
I think this is how I'd integrate it: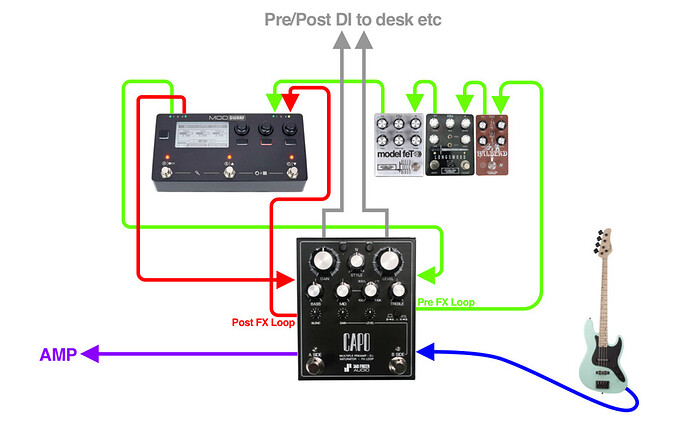 So I'd use the Pre and Post fx loops of the CAPO for channel/input 1 and 2 of the Dwarf. It would allow me to stack FX modules in the Pre loop either before or after (but not both) the analog drive pedals and delay or reverb at the end of the chain.
This means that for live I wouldn't be able to make use of any cab sims to send to FOH etc and I couldn't add compression/octave before my drive pedals and modulation after etc. That being said if the AIDA-X modelling works, perhaps I could just create a model of my analog drives and the need for multiple FX loops becomes redundant?
Anyone else been through similar conundrums?