Hey fellas!
Had some minor set backs this last week due to a broken camera gimbal and musician's friend sending me an absolute piece of trash instead of a new synth… However I am moving forward and picking up steam. Also got a fat discount on a new Dreadbox Typhon for my troubles.
Since I am focusing on creating an album for the first time, I figured I would collect samples from my first track and share them with you as I record them. This will also include samples recorded but not used. I'm not a good judge of my own material, so its fair to let you decide whether you like the sound or not.
Everything recorded is from my hardware, so no EULA concerns on anyones end. The drum samples are software but free use. I'll avoid more drums and maybe provide midi patterns instead.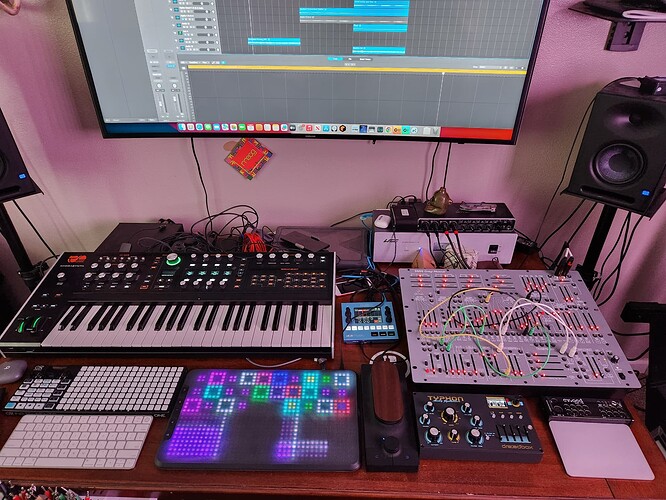 My Deepmind 12 is out of frame, but is recorded.
These are free to any of you that want them, and hopefully you dig them.
These are 8 bar loops that I have not chopped up at all. As I progress, I may chop these down into one shots for ease of use.
I'm keeping my set up as analog as possible. I typically try to avoid recording effects so that you can apply your own. Unless the effects are used for sound design and then you're pretty much at the mercy of my personal tastes.
https://drive.google.com/drive/folders/14FK5gMOgm3mmyRaURnen3OuW18zU9Mdp
There are both 16 bit and 24 bit recordings, and of course are free to use with the permission granted here.
I will add a text note for a "license" in the folder at some point.
As I continue to flesh out my track over the next week or so, I'll upload new samples.