I recently saw a video about the Seymour Duncan Hyperswitch and thought that this would be a fantastic cooperation opportunity for MOD. This device works with Bluetooth (LE) and can – via small relays – change how guitar pickups are wired with each other. This brings loads of tonal flexibility and requires no soldering. It is controlled via an app from your smartphone, but how cool would it be to do that from your Dwarf, Duo or DuoX? And I think it will be hard for the competition to implement a comparable integration, giving MOD another USP.
I am not usually GASing, but will definitely get one of these. Thanks for the link @Teuvosick!
I'm using the manually controlled tripleshot rings with P-Rails on one of my guitars and the range of tones you can get from this is quite amazing, especially since I've also added a parallel/series and a phase reversing switches for neck and bridge pickups as well. I've never thought you could one day have the opportunity to control this remotely (and to be honest, having them at your fingertips is already doing the job quite well), but why not. And it makes perfect sense to have it integrated to your MOD pedalboard/scene.
I expect their interface to be closed proprietary though. So I am not sure there would be an easy way to interact with this thing from a MOD device…
I have those, too, and I love them. But they are cheap plastic, alter the look of the guitar and work only for humbucker-sized pickups.
I always wanted to do this, but did not want the additional holes. Purchased a Freeway-Switch, messed up the soldering and gave up on modding.

Perhaps, that's why the Hyperswitch is so appealing for me.
Their protocol is certainly proprietary, although likely very simple. I was therefore suggesting that MOD had a chat with them about a cooperation. SD could benefit with a guitar-centric control device (no smartphone) and for MOD it would be a fine addition to the ecosystem.
I didn't need to add any hole. I just replaced the volume and tone pots with push/pull pots switches. The guitar is a cheap Stagg "copy" of a PRS. This in conjunction with the P-Rails with triple-shots allows for sooooo many different tones that years after the change, I'm still exploring the sonic possibilities of the guitar.
In addition to that, I also asked Sam Deeks of Reloved Guitars to refret it with stainless steel frets and to set a super low action on it (using his incredibly clever fret levelling method with the strings still on) and it's become a really really nice instrument

https://www.youtube.com/@SamDeeksRelovedGuitars
And yes, I also want to put a Freeway switch on all my cheap strats and set them up using Sam's method (possibly after changing the pickups for a stratier glassier tone)
So you have finished your modifications and even like the result. Good on you! Do you happen to have a picture?
I remember installing a Piezo bridge and some alternative tone know (for adjusting the Q) and then some other tasks were more important than the guitar, and I had to put it aside. I still plan on finishing the project … but since it went into storage, I only play an unmodded Squier Strat and an acoustic.

Better than a picture. Sam Deeks always films himself while working on a guitar and uploads the video on his (awesome) YouTube channel. So here is my baby having a makeover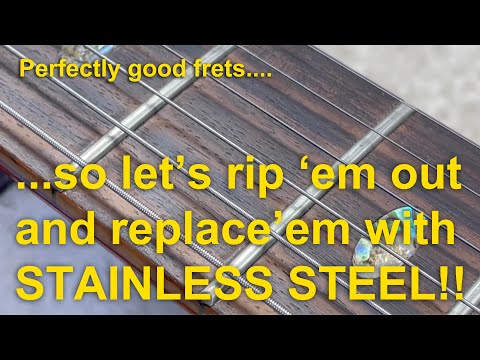 I thought the same when I saw it. In general, if it can use MIDI instead of its app it can be awesome, otherwise I feel it a missed opportunity.
@Azza Great video and nice guitar!
MIDI would be even better for their users, but there are probably energy efficiency considerations that made SD chose something proprietary. Perhaps they would be interested in a cooperation with MOD to allow the switching from a Dwarf/Duo/DuoX?
I remember a guy attempting something remotely similar and am surprised that SD can claim to have a patent. Looks like prior invention to me.