Hello,
It's been a while that i tried to use a midi expression pedal to control several parameter once at time.
Since i worked several hours to reach this purpose I decided to share it with the community, hopefully the newers one as me could save some time, and veterans could give some advice to make it easier.
Starting from the more obvious Control to CV and CV switchbox i had the problem that when change channel the value go to zero, so:
-CV range divider: it can excludde zero and has the great function "sample and hold".
Solved this, when change channel the value of the second parameter is affected from the pedal as setted for the previous parameter so:
Coupling the "logic operator" to a "slewrate limiter" we can trigger a gate only when the pedal is moving, so no change occours changing channel.
-the switchpoint of logic operator is adressed to the "control to CV" (in biplar mode)
"CV round" simply make it more effective.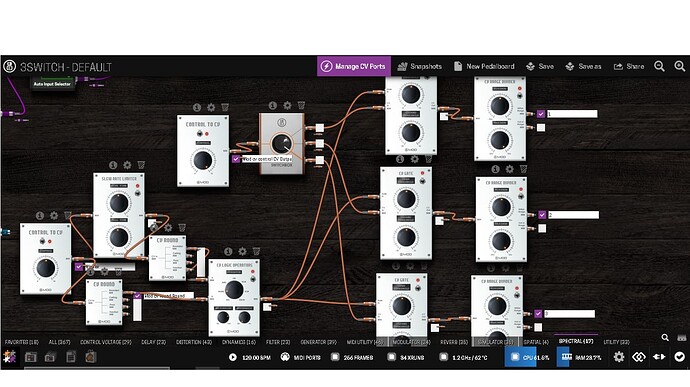 I share privately a pair of pedalboard ( to avoid to pollute (as I did previously

) the official page with bad sound)
The first one is made to control volume of looperlative track , 1 ,2 and total loop.
The second one ,as example control 3 harmless to make some subtractive rhythm.
Hope to be usefull to someone.