Very nice! Alread hoped for someone to capture this! Thank you!
Could you maybe also share a few infos about the pedal parameters?
What dataset did you use for the training and what was your final esr?
I'm currently trying to model my VT-Bass and while it sounds quite good there is definitly some space for improvement.
Its a capture of the B7K pedal. Here is an screenshot of the parameters, I haven't use any cab.
About the training I didn't paid attention of the final esr. I just used the default options that the website had. I didn't make any change as I have no idea what those options are for


Hopefully people will start releasing video tutorials and I will be able to investigate further


Here you can hear the difference of the original and the capture. There is definitely also space for improvement. Cheers!
Audio comparison Original vs Capture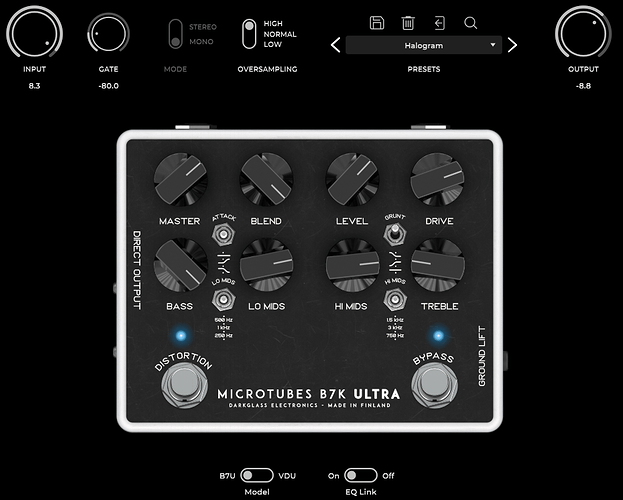 Wow, thanks a lot! I ordered a bass and I will get it next or the week after next week and will test it then. I am looking forward to it!
(breathes a HUGE sigh of relief )
FINALLY!!!
Can't wait to try it out!
Awesome !!!
Now I'll just have to wait un till tonight to test it out with my new Hard Puncher …
Damn as soon as I plugin AIDA X I hit 86% on CPU


Not sure this is going to viable in a live pedalboard
What other plugins are you using? AIDA is heavy so you're going to need Portals in combination with other expensive effects.
This was my first capture, with the default settings. I will make more with lighter training and see if I can get good results with less CPU. At the moment I am using this capture just with a IR loader and EQ without any problems in my board.
I'll try a blank one to see.