Description
---
I can't seem to use a named CV port from the "Audio to CV Pitch" plugin to control another plugin's parameter.
How to reproduce
---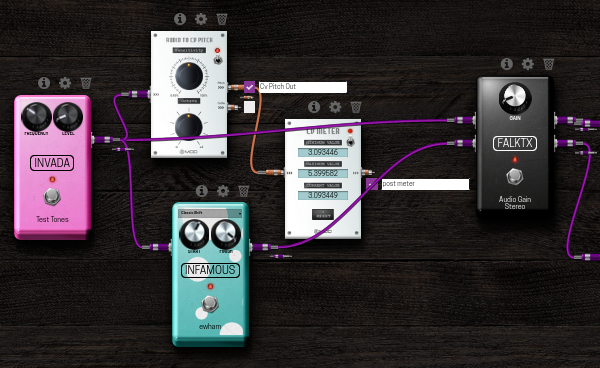 Move the Frequency control of "Test Tones" - note that the CV Meter shows changing values, so we know "audio to CV Pitch" is working and producing valid CV output.
Assign the "Cv Pitch Out" to control the Expression parameter in Ewham - this doesn't work (the Expression parameter doesn't change when the "CV Pitch Out" changes).
Instead, assign the "post meter" CV Port to control the Ewham Expression parameter - this works.
Note that, if I replace the CV Meter with a CV Switchbox, the same thing happens - the CV Port output from the Switchbox is usable. So, the Audio to CV Pitch output looks like it just needs to run through anything else, to be assignable to another plugin's parameter using the named CV port facility.
Expected/suggested solution
---
The "Audio to CV Pitch" CV Port output should be usable directly, rather than having to run through another plugin.
Additional information
---
release: 1.12.0 (Duo X)

Operating system: Linux

System version: Manjaro linux (kernel 5.11.4-1-rt11)